Humble Beginnings
1979
John Holden found himself out of work. With an entrepreneurial spirit, John decided to purchase a little known brand name called Anox® and a formulation for something called "VCI paper" from a Canadian company located in Hamilton, Ontario. He needed a name for this newly formed company and looked no further than the initials of his wife and two children. The names of Shari, his wife, Kelly, his daughter, and Scott, his son soon came to form SKS Industries. Located in Webberville, Michigan at the time, SKS Industries soon came to be known for vapor corrosion inhibiting papers, packaging materials and silicone release papers.
Horse Stables to Military Approval
The Early Years 1980-1989
The early 1980's were hard work for John and Shari Holden. With a young family to raise and a new business to grow, it became apparent to John that he needed to focus his business if he was going to survive. He decided to eliminate the other packaging products and focus solely on VCI papers. With some successful chemistry modifications, a focus on service, and a good partnership with a Canadian coating and converting company, John and Shari soon had SKS Industries positioned for business in the Michigan automotive market.
In 1983, SKS Industries was granted prestigious approval on the Military Qualified Products List for MIL-PRF-3420. This approval, combined with the trust and reliance of most of the largest industrial corporations in the world, propelled SKS into the forefront of VCI packaging. Throughout the 1980's, SKS began to expand into new states and markets successfully.
From Near Failure to Success
1990-1999
Things were going well for the Holdens through the late 1980's. SKS Industries was cruising along nicely until one day in early 1990 when John received a phone call from the plant in Canada. The company he contracted with was going out of business. These are the types of decisions in life that lead you in one distinct direction or another. John decided to take the leap and purchased the equipment from the now defunct coating company, moved it down the street with a Canadian partner, Keith Johnston, and started SKS Industries Canada. With direct coating and converting control, SKS Industries began to move to the leadership position in VCI Paper. Likewise, SKS added some other VCI products such as VCI film and VCI netting. In 1996, SKS hired the first outside sales rep that wasn't named Holden to expand sales. In the late 1999 SKS earned ISO 9002 registration and was by then approved by the likes of GM, Ford, Chrysler and TRW. Now it was time to expand distribution.
SKS Takes the Next Step
1999-2003
In 1999, John hired David Yancho to lead the sales efforts. Yancho's background with 3M and FedEx package engineering, along with his distributor sales experience, fit nicely for what was needed at SKS Industries at the time. Yancho went to work on setting up a distribution network throughout the United States. Within a couple of years, SKS began to expand to most of the industrial markets of the USA, Canada and Mexico. Unfortunately, cancer took the life of John's wife and business partner, Shari Holden in 2002. Throughout the time of Shari's illness, John began to reduce his role within the company and eventually brought aboard Robin McConnell to serve as President and Technical Director in 2002. Robin brought a background rich with chemistry expertise as well as an MBA from Michigan State University. Soon Yancho and McConnell began to discuss with Holden the purchase of the business.
Expansion to Mexico
2003
SKS Industries paved further inroads with Mexico when it teamed up with its first international distributor Placosa of Cuernavaca, Mexico. Placosa specializes in automotive adhesives, sealants, corrosion inhibitors and coatings and hosts a customer base made up of GM, VW, Nissan, Ford and Chrysler. Placosa then established Parautos to exclusively distribute corrosion management products — SKS Industries, Placosa and its Parautos were the perfect complement.
New Name, Same Company
2004
In the Fall of 2004, SKS Industries changed the name of the company to Armor Protective Packaging®. Not to break ties with our past, a past that reflects more than 33 years in the corrosion preventative business, but to reflect our future, a future as a company who is growing and evolving and working to meet the unique needs of a changing industrial market. With global expansion on the horizon, Yancho felt that ARMOR would prove to be a better name internationally and the image of a knight as the logo would be more recognizable. Much like a suit of armor is designed to protect the life of the knight inside, Armor Protective Packaging® is designed to protect the "shelf life" of your metal parts from the threat of corrosion.
Cutting-Edge Technology
2005
With McConnell's chemistry expertise, ARMOR began to develop some of the top performing VCI films in the world. In 2005, ARMOR launched the revolutionary films Defender™ and Crusader™, the first co-extruded VCI films on the market. During this same time, John Holden began to express desire to step back from his day-to-day role in the running of ARMOR. He felt comfortable with the expertise and abilities of McConnell and Yancho whose work in the different disciplines needed to run a successful business were the perfect marriage. With all areas of the company covered from finance to science to sales and marketing, John began a succession plan that included selling a portion of the company to McConnell and Yancho.
Bright Idea Technology™
2006
In 2006, ARMOR patented its Bright Idea Technology™, ARMOR's use of fluorescent tracing agents in its ARMOR POLY® line. The Bright Idea Technology™ offered customers a quick and inexpensive quality control check to verify the VCI content of their VCI products. Bright Idea Technology™ readily identifies and provides visible proof that VCI is present in ARMOR POLY® film simply by shining a black light on it.
Global Reach
2007
In 2007 the global reach of ARMOR continued to grow with expansion to Europe and Asia with multiple businesses joining ARMOR as international partners and distributors. In 2007, Technology Packaging of the United Kingdom joined on as ARMOR's first European partner. Technology Packaging owner Jerry Harwood was looking for a strong partner in vapor corrosion inhibitors and ARMOR was the ideal fit.
Also joining forces with ARMOR was China's Waiteksin, a national high-tech company since 2003 located in Beijing. Waiteksin represents the full line of ARMOR products and services and has a network of more than 20 distributors and subsidiaries who cover every major economic developing zone in China. Waiteksin customers include Cummins, FAW (China First Auto Works), Winhere, Magna, John Deere, China Nuclear Power.
ARMOR in Hollywood & the News
2008
2008 brought Italy's Tecno PrimaF on board. Tecno PrimaF specializes in crating, protective packaging, and preservation materials for automotive and industrial companies. Additionally, Japan's Nippe Trading, a division of global company Nippon Paint, became an ARMOR partner. This partnership offered a customer base of Japanese automakers including ties with Honda, Toyota and other Japanese manufacturers.
From a press coverage stand point, ARMOR scored several major victories. In 2008, ARMOR was named to Inc. Magazine's Top 5000 Fastest Growing Private Companies in America. This honor was a reflection of ARMOR's growth and expansion from a small manufacturer in 1979 to a company with a customer base spanning the globe.
Workshop Hero™ Consumer Division Established
2009
In 2009, ARMOR launched Workshop Hero™, a new consumer products division. The Workshop Hero™ line offers cutting-edge products designed to take the "work" out of workshop. Currently, Workshop Hero™ offers Metal Rescue™ Rust Remover Bath and Dry Coat™ Rust Preventative, two products that have been wildly successful with industrial customers. Just as ARMOR products are clean, safe and easy, Workshop Hero™ products are also guaranteed to be clean, safe and easy to allow Workshop Hero™ customers to work less and play more.
Metal Rescue™ is a 3 Time Winner
2010
Workshop Hero™'s Metal Rescue™ gained momentum with the receipt of three Global Media Awards from the 2010 Specialty Equipment Market Association (SEMA) at its tradeshow in Las Vegas, Nevada. Metal Rescue™ Rust Remover Bath captured the coveted awards from a judging panel of 26 journalists from 16 countries where more than 2,000 new parts, tools, and components were registered in the new product showcase. Metal Rescue™ Rust Remover Bath was chosen because of its safety, ease of use and effectiveness against rust.
ARMOR Diversifies into Retail
2011
In 2011, Metal Rescue™ Rust Remover Bath and Dry Coat™ made their debut in the retail chain of Menards home improvement stores. This debut was significant in that it allowed for greater access and distribution of the Workshop Hero™ line of products. 2011 also brought the addition of celebrity spokesman Bryan Fuller of the television show Two Guys Garage to the Workshop Hero™ team. Fuller, known for his expertise in metal shaping and custom hot rod/motorcycle designs, was an ideal spokesperson to speak to the benefits of the rust removal and rust preventative products offered by Workshop Hero™.
Metal Rescue™ received further recognition when it received a 2012 Automotive Aftermarket Products Expo (AAPEX) Product Showcase Award. More than 4,000 votes were cast for products in 13 different categories of the AAPEX Product Showcase and Metal Rescue™ was chosen for its safety, ease of use and effectiveness.
2011-12 brought expanded international reach with the addition of three new partners.
In 2011, India's Adduco Engineering Solutions Private Limited joined the ranks of the Armor Protective Packaging® international partners. Bearing the name of Armor Protective Packaging India, the company is a professionally managed organization with more than 150 accounts and has presence in all key industrial geographies in India.
Further Global Expansion
2012
2012 marked the year that Wealthy Shine Co., Ltd., of Thailand became an ARMOR partner. Wealthy Shine is a manufacturer, distributor, and wholesaler of rust preventative and rust removal products as well as chemicals such as additives and solvents used to protect and remove corrosion.
As of 2012, Internusa Indonesia became a new international partner of Armor Protective Packaging®, offering ARMOR's full line of corrosion management products. Self-described as a "manufacturing trading company," Internusa's team work with more than 50 customers who in turn serve more than 500 companies in Indonesia. The company's current customer base is comprised of electronics companies, automotive manufacturing, stamping companies, and heavy-duty parts manufacturers for industrial companies.
Workshop Hero™ Brand Grows Stronger
2013
Celebrity Frank Fritz of HISTORY's hit TV series American Pickers joined the Workshop Hero™ team in 2013. Fritz, who serves as a celebrity spokesman, is a picker by trade and no stranger to rust. His background in antique collection and restoration, combined with his notoriety from American Pickers, make him the perfect complement to the Workshop Hero™ product line for the consumer market.
ARMOR Debuts New Headquarters
2014
Armor Protective Packaging marked its 35 year anniversary in a big way with the purchase, construction and move to a new international headquarters. The new building, which houses both ARMOR's industrial division and its consumer division Workshop Hero, hosts more than 45,000 square feet of office, production, inventory and distribution space. Special attention was devoted to creating design and décor that marry the past with the present as the building's interior embraces a "repurposed" look and feel reflective of the company's corrosion management product lines.
ARMOR Hosts Open House
2015
ARMOR hosted a customer open house to showcase the company's new international headquarters and share its success in making such a monumental transition. Attendees of the event included customers from the area, local media, a large contingent of ARMOR international partners who were onsite for the company's global sales meeting, and ARMOR employees, family and friends. Open house guests were invited to take part in guided building tours, a custom car and motorcycle show, a meet and greet with Frank Fritz of "American Pickers" on the History Channel, food, drink and a formal ribbon-cutting ceremony.
ARMOR formally established and debuted its employee volunteer program named VALOR, Volunteers of ARMOR. As part of VALOR, all ARMOR employees are given 24 hours of paid work release time to participate in volunteer opportunities that serve and support the community.
Through ARMOR's consumer division Workshop Hero, ARMOR partnered with Bar's Leaks to bring Metal Rescue Rust Remover Bath and Dry Coat Rust Preventative "down under" to Australia and New Zealand. The Bar's Leaks brand is widely known in Australia and New Zealand and offers a full line of automotive cleaners and chemicals.
To wrap up the year, ARMOR was named a Michigan 50 Companies to Watch winner by the Michigan Celebrates Small Business Association celebrating innovation, job creation, growth and community impact.
ARMOR Named Project of the Year
2016
The Economic Development Council of Livingston County presented Armor Protective Packaging with its Project of the Year award for ARMOR's consolidation of out-of-state operations to its Michigan Headquarters in addition to its $500,000 investment and creation of new job opportunities in the community. ARMOR's International Corporate Headquarters received the Outstanding Architectural Investment Award from its local Howell Area Chamber of Commerce. The award recognizes those businesses that make positive contributions to the visual landscape of the community.
ARMOR was awarded the global Category Partner level for Cummins for VCI packaging following an intensive and lengthy series of presentations and evaluations. ARMOR has been active within a number of Cummins manufacturing facilities; successfully assisting with new VCI packaging design and cost savings.
ARMOR's Metal Rescue brand expanded into all 5,000 + AutoZone stores with Metal Rescue Rust Remover CONCENTRATE hitting the shelves. A water-based rust remover, yes, you heard it right, that is clean, safe and easy to use. In fact, we like to say, it's Safe On Everything Except Rust!
ARMOR is "A Cool Place to Work!"
2017
Armor Protective Packaging was named to Crain's Detroit Business Cool Places to Work in 2017, an award given to 100 Michigan-based companies to recognize employers that go the extra mile to make employees feel appreciated—as judged by the employees themselves.
ARMOR completed the installation of its new paper coating line including the design of programs that allow paper to be printed, coated, and dried by the touch of a couple buttons. This new line allows ARMOR to coat paper to very tight tolerances for coating weights and percent moisture while running at 550 feet per minute.
ARMOR was formally added as an approved corrosion preventative supplier to the Caterpillar Corporation (CAT) for its rust prevention products ARMOR WRAP VCI paper and ARMOR POLY VCI film—this formal approval benefits the entire ARMOR global family.
ARMOR launched new Metal Rescue Rust Remover GEL in select stores. The gel allows users to remove rust on vertical surfaces, spot rust or just rust that's difficult to soak in Metal Rescue BATH.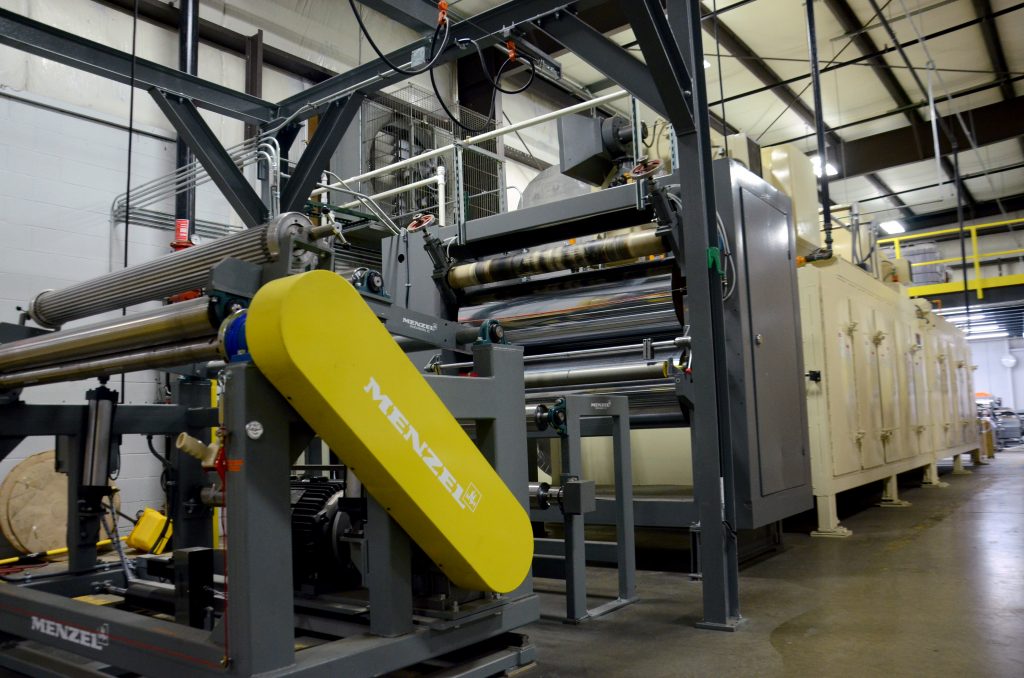 Stock & Ready Program Launches
2018
ARMOR recognized that its customers' purchase expectations in the workplace had evolved. Customers want their purchase experience to include simple ordering, quick turnaround and fast shipping. In response, ARMOR transformed its internal operations and added three times the inventory of in-stock products, we refined our order response systems to ensure quick processing, and we enhanced our shipping capabilities. The result, we call ARMOR Stock & Ready®.
Volkswagen granted approval for ARMOR WRAP VCI paper and ARMOR POLY VCI film for all Volkswagen sites as well as for all Volkswagen internal and external sub-suppliers. ARMOR also received approvals from BMW in 2018.
ARMOR became the major sponsor of the local community's Great Pumpkin Classic Car Show. Organized and planned by VALOR, Volunteers of ARMOR, the show raises donations that directly benefit the local Salvation Army raising over $17,000 in 2018.
ARMOR continued to be recognized for its culture and work environment being awarded as One of the Best Workplaces for 2018 by Inc. Magazine and the Crain's Detroit Business Cool Places to Work for the second year in a row!
ARMOR Turns 40!
2019
For 40 years, we at ARMOR have held to our steadfast commitment that any rust prevention/rust removal product we offer must be clean, safe, easy and effective. ARMOR has come a long way from its humble beginnings, when in 1979 ARMOR CEO John Holden started it from his home. What began as a business whose sole focus was the manufacture and sale of a rust-preventing VCI paper line has grown and evolved into an international corrosion management solutions company offering multiple rust prevention and rust removal product lines in thousands of sizes and variations.
ARMOR and Plano Synergy joined forces to engineer the next generation in rust-free, worry-free tackle storage – the Rustrictor StowAway line of utility boxes. Infused with ARMOR VCI Nanotechnology, Rustrictor StowAways are the first tackle storage boxes to provide 360 degrees of rust-stopping protection for terminal tackle and hard-bait. The Rustrictor line of tackle boxes is available online and in all Bass Pro Shops and Cabela's stores or online only at Dick's Sporting Goods and the Plano site.